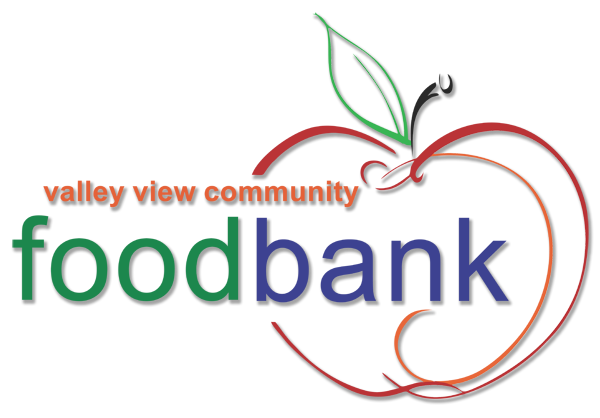 To serve those in need…
with compassion and respect while providing the resources for wholesome nutritious food.
Donate
A MESSAGE FROM JESSE RAMIREZ
We will be OPEN at our Sun City location from 9AM to 1PM, Monday through Friday, until further notice. Every health and safety protocol possible will be observed to keep our clients and volunteers safe. But the needs of our community — and surrounding communities — will be met to the best of our ability to serve.
There is suffering and hunger stalking our neighbors. We are committed to doing everything possible to help.
Weekend volunteers are needed. Call 623-933-3358. Walk-ins welcome.
Valley View Community Food Bank Facing Unprecedented Demand for Help
Valley View Community Food Bank (VVCFB), headquartered at 10771 West Peoria Avenue in Sun City, is mobilizing to answer as many requests for help as possible. Jesse Ramirez, founder and president of the non-profit organization, says that in one day he received more than 160 calls on his emergency phone from people desperate for assistance. The food bank is seeing as many as 500 clients per day, many of them who have never asked for help before. Food counselors and other agencies are also turning to VVCFB for help.
With the sudden cancellation of school, and the shuttering of many businesses for an unknown length of time, many people are scrambling to provide basic survival necessities for children, grandchildren, and themselves.
Jesse Ramirez states, "We are in need of more donations, especially food, personal hygiene items, and cleaning and sanitation supplies."
He explains that the cost of staple food items such as rice and beans – if these items can even be acquired right now – have doubled and tripled. So monetary donations to facilitate the purchase of needed resources is extremely helpful. Particularly sought after are such essentials as items to make soup, canned tomatoes, and fresh produce. Grocers are not supplying produce because of the increased volume of buying being experienced now in retail establishments.
He adds, "In my decades in food banking, I have never seen anything more disturbing. People are crying and are so afraid of the future. We have to find ways to help each other. We are all in this together, and together is the only way to address this historic crisis."
To donate, you can go to www.feedingaz.org. To volunteer to help pack boxes or deliver food in the Sun Cities, call Martha Ovalle, Volunteer Coordinator, at 602-486-4285. For more information, contact Jesse Ramirez at [email protected].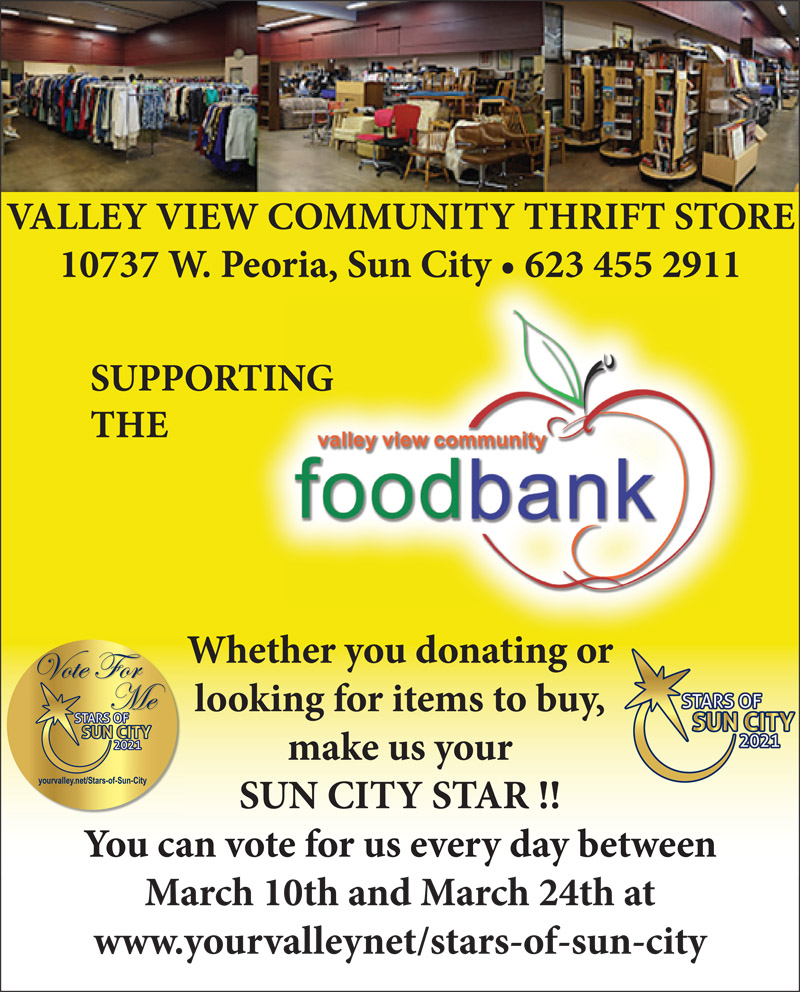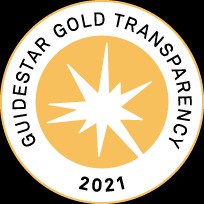 VVCFB NEWS

🍎 SATURDAY FARMERS MARKET 🍎

12-2-2023

PLEASE SHARE!!

Valley View Community Food Bank Indoor Farmers Market

12321 NW Grand Ave.

(Next to Food City)

SATURDAY 7AM - 11AM

**WHILE SUPPLIES LAST**

PLEASE BE AWARE THAT NO FOOD CITY CARTS WILL GO IN THE MARKET. PLEASE BE PATIENT AND SOMEONE WILL BRING YOU AN EMPTY CART.

IF YOU HAVE A WAGON OR CART OF YOUR OWN PLEASE BRING IT.

CARTS ARE LIMITED.

Misc. Meat for purchase

A $10 donation this week will provide your family with

Tortillas, Strawberries, Spinach, Carrots, Collard Greens, Broccoli, Limited Veggie Trays, Watermelon, Limes, Pie Crusts, Lots of Misc. Produce(too much to list), Potatoes, Hand Sanitizer Wipes, Pastry

and Bread🍞🥖!!!

*Cash/Credit/Debit accepted in store.

Items in refrigerator/freezer & shelves sold separately for additional donation.

The earlier you get here, the more variety you get. Doors close when our supply runs out! Lots of amazing produce! You don't want to miss this week!

*Cash/Credit/Debit accepted in store.

All donations help Valley View Community Food Bank assist more families within the greater Phoenix Valley. Volunteers are always appreciated.

Today is Giving Tuesday! Please consider making a donation to Valley View Community Food Bank using the link below. All donations will help feed families in need this holiday season!

Please help Valley View Community Food Bank feed those in need this holiday season. The money raised from this campaign will go toward the purchase of food to help feed our community this holiday season.

After an amazing Thanksgiving here at Valley View Community Food Bank we are ready to start preparing for Christmas! OUR ANNUAL TOY DRIVE STARTS TODAY! We will be collecting toys for children of all ages (Infant-Teens). You can drop off your donations at the food bank through December 20th. We have also created an Amazon Wishlist for those of you that would like to shop online. You can click on the link below and purchase any of the items on the list and have it shipped directly to the food bank. Thank you for your support!

https://www.amazon.c...iew/VKCQPCPFO0XD

ATTENTION: There will be NO FARMERS MARKET TOMORROW 11/25. Our staff and volunteers are taking the Thanksgiving weekend off to spend time with their loved ones. The food bank will be open normal business hours on Monday. Thank You!
Support Your Food Bank
Support Your Community
Our client intake has seen an increase of almost 65% new families and individuals looking for resources and assistance. We're working hard to provide emergency food boxes that will help feed low income families and individuals.
In 2016, we provided more than 5 million pounds of food directly to clients or partner agencies, all in the West Valley. We rely greatly on the support of the community and ask that you please consider making an online donation to help us with our mission to end hunger.
Our online system is secure and many consider it to be the easiest way to give to
Valley View Community Food Bank
on a regular basis. Or, if you prefer, your gift as a check can be mailed to 10771 W Peoria Ave. Sun City, AZ 85351​. As always, we are grateful for your continued support.
Please donate Online
.
Arizona's 8th Congressional Recognition
Outreach Director Lynndy Smith from the office of Congresswoman Debbie Lesko presented Jesse Ramirez, founder of the Valley View Community Food Bank, with the first ever Arizona's 8th Congressional Recognition. Arizona's 8th Congressional Recognition was inspired by constituents of our district like Jesse who are making a huge difference in our community. The Valley View Community Food Bank located in El Mirage helps 300,000 people per year. Thank you, Jesse, for your decades of service to the community.
Volunteering is a great way to get your team inspired and give back to your community! With large food drives coming up, we appreciate your help! So if you would like to volunteer, we can schedule groups of up to 20 volunteers.
Another way your group can help is to hold you own event, food drive, or fundraiser.
Individuals are also welcome to help in the pantry or in one of our thrift shops on a regular basis. Extra volunteers are needed for our special outreach events, such as "back to school," Thanksgiving food boxes and Christmas toys, and clothing give-aways.
West Valley Clients Served
Easter - Individuals Served
Christmas - Individuals Received Ham and Food Box
Thanksgiving - Food Boxes Distributed
Thanksgiving - individuals received turkey & trimmings
How does a thrift store help the food bank? The local community donates gently used household items and merchandise to the food bank allowing us to sell them to the general public. The proceeds from the sales go directly to support Valley View Community Food Bank.